Overview
Powerful Prep offers the highest point gains in the test prep industry for students in the Los Angeles area. Run by elite instructors, the company's proven approach has earned it the title of "Best Test Prep in Los Angeles" by CBS.
Looking to improve their conversion rate, Powerful Prep reached out to Decoder to develop a strategy that would turn more visitors into students. With limited traffic, it became clear that a full site redesign was the only change big enough to be measurable.
The results of A/B testing the new site against the original was a 98% increase in lead generation rates with 96% statistical significance — almost doubling enrollment with no additional traffic.
Industry
Education
Services
Conversion optimization, including customer research, conversion strategy, copywriting, web design and development, quality assurance, and A/B testing
Location
Los Angeles, CA
Visit the Site
Background
The test prep industry is a competitive one, ranging from mass-market providers like Kaplan and Princeton Review, to elite ones like Powerful Prep. Even high school and college students on Craigslist are a significant part of the mix. Standing out can be difficult.
Matt Larriva, the company's founder, explains their situation best: "We banged our heads against a wall for awhile trying out different SEO, SEM, and site design firms. Each was excited, adamant, and confident, but they all turned into nebulous exercises with no tangible results. They took our business, performed the same 3-4 generic tweaks they do to all companies, then acted surprised when nothing came of it."
"So when I set the goals for 2016 for Powerful Prep, one of them was to figure out the digital presence. I wanted to work with an agency that was confident in their abilities and who were willing to say, 'you should expect XX results.' rather than the industry's go-to 'results-not-guaranteed' mantra."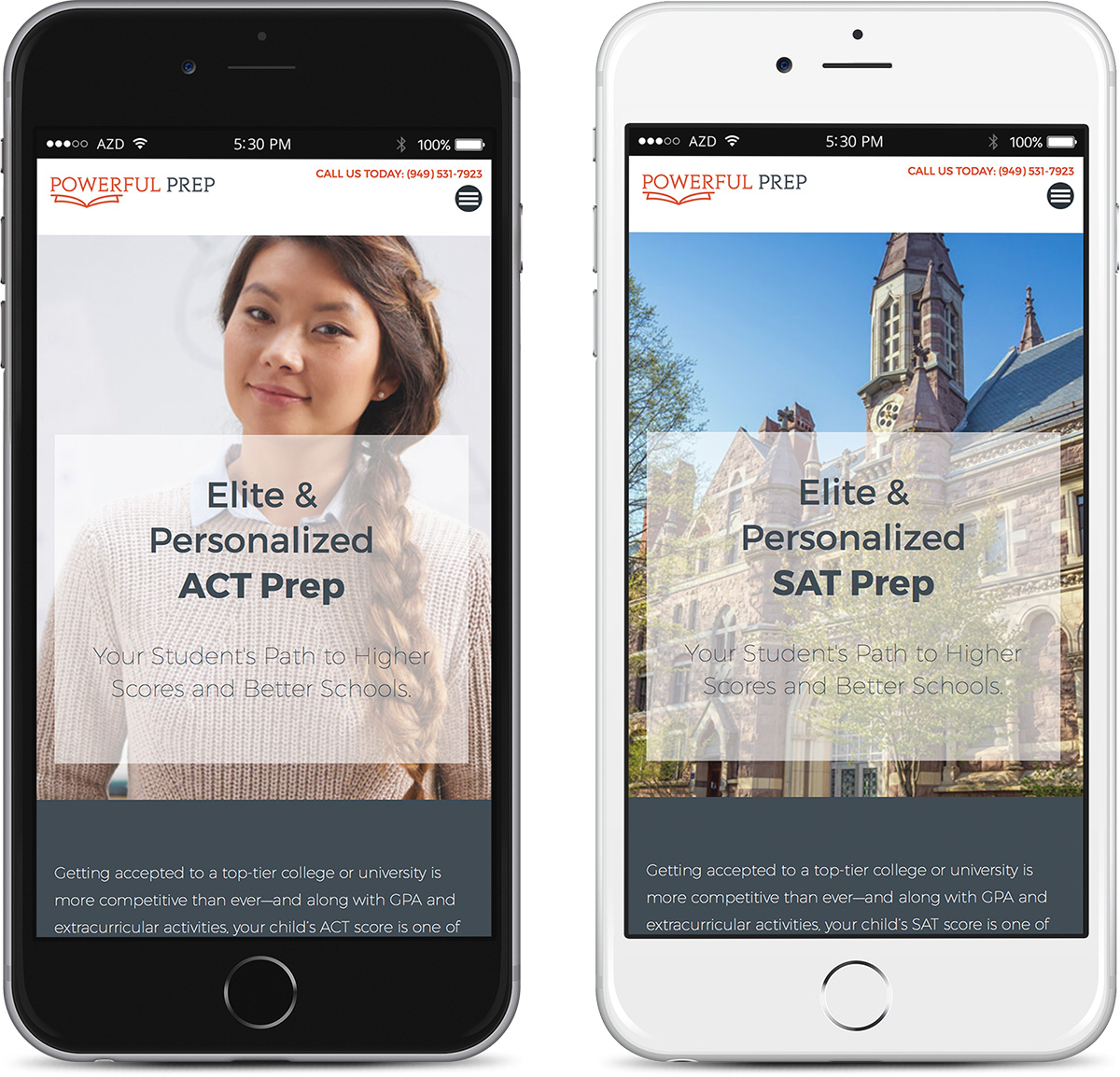 Strategy
In initial talks, we discovered that from both a financial perspective and the statistical limits of A/B testing, we needed a big win to demonstrate impact and achieve profitability. It quickly became obvious that a complete site redesign would be necessary to hit our goals.
A few lucky guesses simply wouldn't cut it. Through extensive research, we identified salient factors in the decision-making process — as well as a hidden wealth of persuasive assets that spoke to them. We landed on an approach that streamlined the user flow, used concise messaging to emphasize the uniqueness of Powerful Prep's offerings, and leveraged a clean, institutional aesthetic to establish credibility and trust.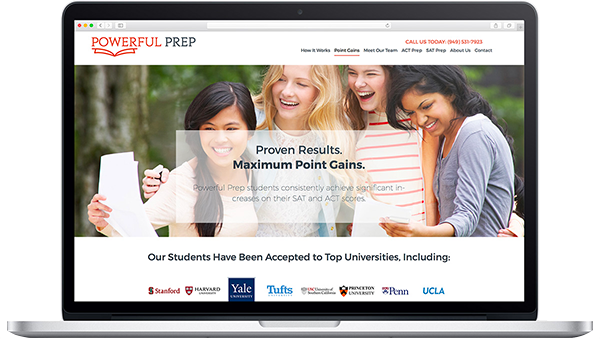 Results
After developing the new site, we then insisted on A/B testing it against the original. While we were confident that our treatment was better, clients' best interests should never be left to chance.
We were happy to be confirmed: roughly two weeks of testing showed a 98.32% increase in leads from form fills and phone calls with a 96% statistical significance level. Although we saw similar stats from the start, we continued the test well beyond the typical significance threshold to ensure it wasn't a fluke.